AsACC Meets President Katsouleas
AsACC staff members were on hand to welcome new Pres. Tom Katsouleas on his UConn inauguration day.
Highlights from Asian Nite 2019
Asian American Cultural Center
2110 Hillside Rd. U-3186
Storrs, CT 06269-3186
(860) 486-0830
asacc@uconn.edu
Alumni Spotlight
Throughout the 25 years since the Asian American Cultural Center's establishment, exceptional individuals have come and gone. We here at AsACC want to recognize those past individuals, as well as the current students that stay active and take initiative within our community.
The Asian American Cultural Center would like to thank Lien La and Arsal Shah for taking time out of his busy schedule to share their experiences. We hope to see you back at AsACC soon!
Latest News
Show your Support for AsACC!
We are now selling our "One Community" AsACC t-shirts!
Purchase on-line and then stop by the center, SU Room 432 to pick up your shirt.
Website can be found at the UConn Bursar Office, Cash Operations page – UConn
Marketplace – or click here: UConn Marketplace
Thanks for your support!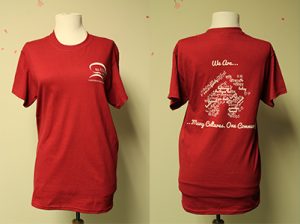 AsACC Programs