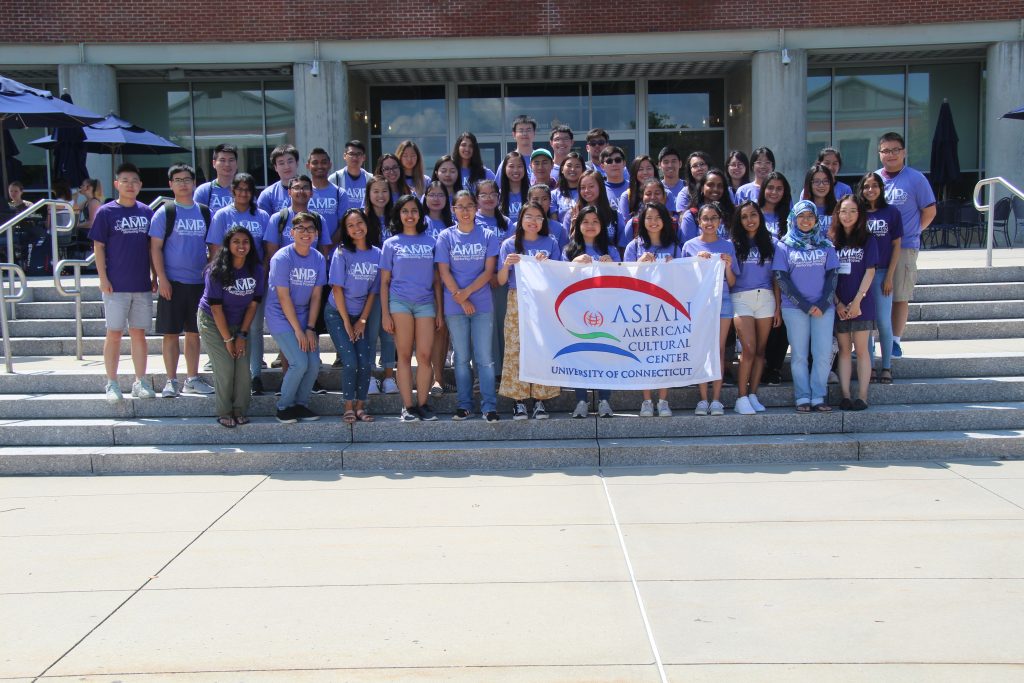 Asian/Asian American Mentoring Program (AMP) mentors for the 2018-2019 academic year.
The Asian/Asian American Mentoring Program (AMP) is an award-winning peer education program that assists incoming Asian/Asian American students adapt to their new college environment. New students are paired with continuing students who serve as a resource and assist them through their first year. Throughout the year AMP hosts various workshops- academic success, career preparation, and outreach opportunities-with each catering specifically to the incoming UConn student. The Asian/Asian American Mentoring Program also provides new students the opportunity to connect with other students, faculty, and staff and to learn how to get involved with the Asian American Cultural Center and its affiliated student organizations.
Join AMP Now
Program Mission
To provide Asian and Asian American students in their first year on campus with support and resources to successfully adapt to the academic, co-curricular, personal, and social rigors of college, as well as the knowledge and skills necessary to persist the during the remainder of their college experience.
APPLY NOW!
(Must login into UConntact)
AMP Coordinator 2020 Application

Program Goals
Goal 1: Facilitate successful academic integration among mentees
Provide access to advising and mentorship from campus peers, faculty, and staff
Provide referrals to campus resources
Provide opportunities for academic skills development
Goal 2: Facilitate successful social integration among mentees
Provide access to mentorship from campus peers, faculty, and staff
Provide opportunities to connect with peers and build community
Facilitate exploration of, and involvement in, co-curricular activities
Disseminate information regarding co-curricular and experiential learning opportunities
Goal 3: Cultivate personal development among mentees and mentors
Facilitate exploration and empowerment among the multiple dimensions of identity
Provide opportunities to gain awareness of values, interests, and strengths
Goal 4: Facilitate leadership development of mentors
Provide opportunities to acquire, develop, and practice skills in peer mentorship, program planning, and interpersonal communication
Cultivate understanding of strengths in areas of growth as a leader and peer mentor
Goal 5: Facilitate personal exploration of the Asian American identity during the AAAS 4100: Experiential Service Learning
Raise self-awareness of being Asian American by exploring personal backgrounds, personality traits, and behaviors, and social and political realities
Discuss practical ways to build coalitions within the Asian American community and beyond
Provide opportunity to understand human relations in mentoring to develop personal mentoring philosophies and leadership development