Senior Appreciation Week 2020

This year-end celebration honors the accomplishments of graduating seniors and recognizes the outstanding contributions of students, faculty, and staff to the AsACC and to the Asian American community throughout the past academic year. Families of seniors and special honorees are also part of this annual event.
Although AsACC is not able to honor the seniors physically this year, AsACC will be acknowledging the seniors this year online by showcasing the recognition they've received through our Senior Appreciation Week!
To keep up to date with Senior Appreciation Week, follow @uconn_asacc for more updates!
 Introduction
——

Scholarship Winners
UConn AsACC Endowment Fund Scholarship
     AsACC is pleased to announce the winners of its 2020 AsACC Endowment Fund Scholarship. 
     The AsACC Endowment Fund Scholarship was established in 2012 through an initial gift from the Slate Family: George, Laurel, Victoria ('07) and Rebeccah ('11).  Both Victoria and Rebeccah were business majors and very involved throughout campus, particularly with the AsACC and its associated student organizations.
     We would like to thank the Scholarship Committee for their work and support in this process – Prof. Jason Oliver Chang, Associate Dean and Prof. Cathy Schlund-Vials, Prof. Fred Lee, Doctoral candidate Tommy Lee, Kim Schwarz, a Hartford Campus Director, and Sheila Kucko.
     Our first winner is finishing up her freshman year at UConn.  A Dean's List MIS Business major, this student has been an active member of AsACC's AMP, KUBE, and Salaam programs, as well as the student orgs Pakistani Community at UConn and Asha for Education, to name a few.  Having experienced financial and personal adversity, she understands the importance of Asian American activism and strives to fight for women's rights, particularly in Pakistan.  We are pleased to award an AsACC Endowment Fund Scholarship to – Areesha Khan.
     Our next winner is a sophomore Materials Science & Engineering and MCB double-major.  An impressive 4.0 GPA has identified him as a Babbidge Scholar in the Honors Program.  He is a research assistant at IMS, shadows an orthopedic surgeon at UConn Health, and serves as an elected Board of Education official in his hometown.  Within AsACC, he has risen from a KUBE Big to a Team Leader this year.  And AMP is fortunate to have this current mentor as one of its Coordinators for next academic year.  With a drive to bring diversity and cultural awareness to UConn students and beyond, we are so pleased to announce our winner – Robert Minh Lu Williams.
     Congratulations to the winners, and to their continued support in the future!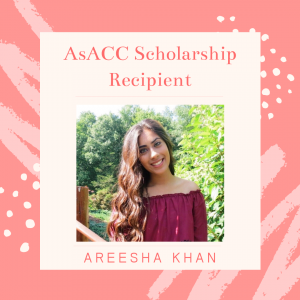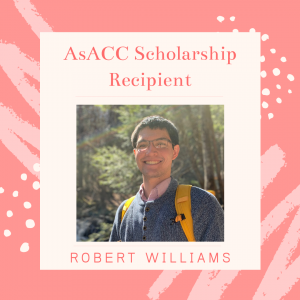 AMP Mentor/Mentee of the Year
Sunny Sarker & Ramisa Hossain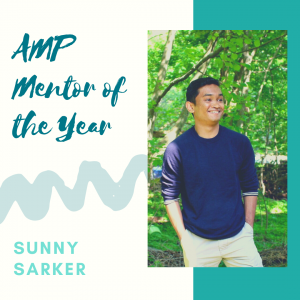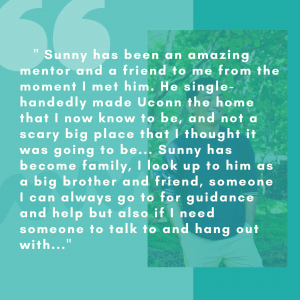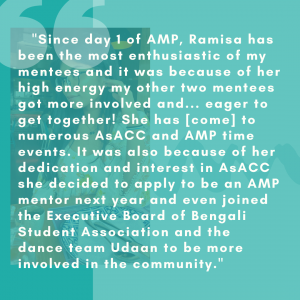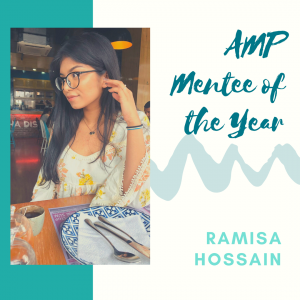 Messages from Professional Staff
Messages from Our Seniors
Senior Video
Congratulations Class of 2020!