In 2006, UConn's Asian American Cultural Center (AsACC) began the Identifying the Missing Power of Asian American in Connecticut (IMPAACT) Conference as a catalyst to empower students in their individual journeys of self-development, identity development, and leadership skills.  The conference is an opportunity for student leaders to network with one another at the University of Connecticut to foster collaboration and solidarity.  The conference encompasses issues such as:  mental health awareness, cultural awareness, leadership development, and exploring topics of social justice.
IMPAACT 2020: Allyship and Solidarity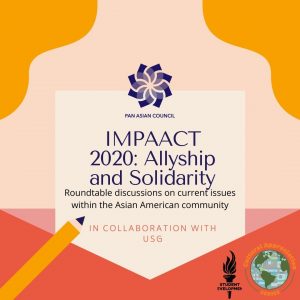 This year IMPAACT is going virtual and we are inviting everyone to take part in a series of conversations with a facilitator to share your thoughts and opinions.  We are focusing on topics in the context of allyship and solidarity such as mental health, anti-blackness, colorism, LGBT experiences, international issues, Covid-19, religion, spiritualism, environmentalism, and ableism.
Videos can be found on YouTube and links will be shared on our Instagram and Facebook accounts.
Thank you to everyone who participated!