In 2006, UConn's Asian American Cultural Center (AsACC) began the Identifying the Missing Power of Asian American in Connecticut (IMPAACT) Conference as a catalyst to empower students in their individual journeys of self-development, identity development, and leadership skills.  The conference is an opportunity for student leaders to network with one another at the University of Connecticut to foster collaboration and solidarity.  The conference encompasses issues such as:  mental health awareness, cultural awareness, leadership development, and exploring topics of social justice.
IMPAACT 2022: Find Your Voice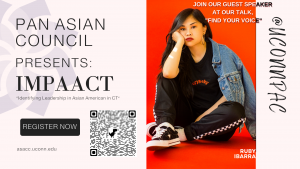 REGISTER FOR IMPAACT 2022 HERE
Our annual IMPAACT Conference is back this year! IMPAACT 2022 will feature fun activities and workshops intended to help build community and bring the UConn Asian/Asian American community together. Workshops topics include mental health, leadership development, financial literacy and so much more! Food and drinks provided!