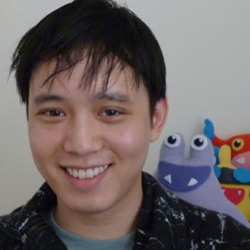 Class of 2004, Physiology and Neurobiology Major
Interviewer: Mikey Truong
Class of 2015/2016, History/Social Studies Education
"Travel as much as you can when you're young"
Spencer told me travel and see the world as much I can while I have the chance. When you're young, you have the time and the means to see the world. Before you settle down with your future career, go to Hong Kong, go to Tokyo, go to Paris, go to London. Learning takes place when you live your experience; if you want to see something for yourself, just take that chance and be there.
"Believe in your failures and take your chances"
Spencer went to UC-Riverside to pursue a PhD after deciding to stray away from the medical track due to his fear of needles. However, while pursuing his degree, he said that getting funded for your research to be successful has to fall into a certain cycle of time. In a sense, you have to get lucky to be successful in research. So Spencer took a risk: he took off school for a year to expand his website, and if it became successful, he would not come back. Years later, http://www.yummyyummytummy.com/ took flight and he never looked back. To pursue video games instead of neurobiology was definitely a risk, but with every risk bears great failure or exceptional rewards, and Spencer believed it may end in failure, but his drive created success.
"Expand your Horizons"
AsACC gave Spencer the ability to expand his horizons and a platform to focus his plethora of ideas. With the help of Sheila, Angela, and the Center, Spencer was able to develop into the person he is. The University of Connecticut is so fortunate to have a Center for students to confide in, when most universities do not have this luxury. Take advantage of the endless support and resource that we get from the Center. Success is bred when you expand your knowledge and expose yourself to diversity and that is exactly what AsACC gave Spencer throughout his college endeavors.
"Think about your Future"
Everyone always use to say that college is the best 4 years of your life, but Spencer never wanted that to be the case. He always said that he would look at his life currently and just think about where he wanted to be five years from now. "There's only two days that matter, the present and five years from now." Looking at your life in that sense, you are able to see your end goal, which will motivate you to do better. Clearly, Spencer took his own advice to heart, always looking forward and never looking back.
Spencer taught me a lot about how to achieve and believing that you're capable to do anything, as long as you set your mind to it. I really enjoyed my talk with him and I gained so much, even in just one short hour. One thing that I'm definitely need to do is go to California after graduation, it seems like an awesome time!
Thanks Spencer, come visit soon!
---