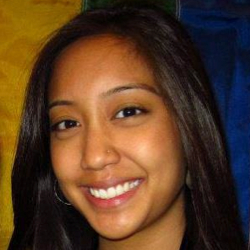 Class of 2009: College of Liberal Arts and Sciences, major in Mollecular and Cellular Biology, minor in Sociology
Interviewer: Shurui Dai
Asaintation Mentoring Program, Coodinator
Class of 2014: School of Pharmacy, PharmD
Kristine Din is a current Residence Hall Director at the University Connecticut and a diehard AsACC Alum. I've gotten to know her through her visits to the Center in the past two years. Her beauty, grace, and easy going attitude never ceased to amaze me. It was always interesting to hear the stories she had to share about the center but now I share her story with you.
What did you do post- graduation from UConn?
Oh gosh. So…I had a quarter life crises. I graduated from UConn in 2009 with a degree in Microbiology with a minor in Sociology. For my whole life I thought I'd go to medical school. But I did nothing related to science when I graduated. I applied to a lot of different jobs but I found myself working with a branch of Americorp called Public Allies. Part of my job was to work at a public school in New Haven. In this neighborhood it was lower socioeconomic background, and I worked with the K-8 students in an afterschool program. Nobody was white so it was fascinating to be a part of it.
How did you plan to go to medical school and then…not?
So I did a lot of reflecting my senior year. I thought that med school would provide fulfillment and happiness, and not that it wouldn't have, but I felt like something else would be better. I thought about the things I was involved with especially the Center and how I liked working with my peers. So I thought education would fulfill what I'm looking for in a career. I don't think there was one "a-ha" moment but multiple due to my experiences here and working with students was what I really wanted to do.
So what did you do after Americorp?
During that year of work I also took the GRE's and applied to graduate schools for higher education and student affairs programs. I applied to 3 schools:  Vanderbilt, University of Vermont, and UConn. Ultimately I went to UVM, which was another decision where I was like "is this right for me" because it is Vermont, boonies, white people of America. Am I going to be okay? But as much as I struggled, I loved it all the same. I think the year of working did me well as it was nice to apply myself outside the classroom. The gap year was healthy for me and I enjoyed it.
How did you end up back here?
So my life is a series of interesting events. Two years of grad school goes by really fast. When I was job searching at the end of my two year program, I applied to a lot of schools in New England. There was no expectation of me coming back here but when I interviewed with all the schools, it was ironic to me that this made sense again. I think the theme is that I rely on my gut instinct, which is usually right. But after going to all the schools and learning about other's people missions, I wanted to be in a place where I felt valued and could do great work. Of course I have a natural affinity for UConn because I was raised in the Cultural Center by two wonderful people named Angela and Sheila and Kenny when he was here. I was afraid that I would regret coming back here and I didn't know if it would be weird. At first it was like a blast from the past, because the last time I was here as a student.
How was your undergraduate experience at the Center?
I went to AMP Kickoff in the August of 2005 and it was still in the red little building by Wilbur Cross. So that was where registration was and we had Asiantation outside in tents, luckily the weather was nice. So before I went I looked at my map like a typical freshman, and I found it thank god! I remember having a lot of fun and participating in all those ice breakers that I make my students do now. It's cool to be in a community that was just here and I didn't have that in my private high school where most people were white. After leaving AMP that day I didn't even think I would be involved in the Center. But because of the people that I knew and met, I was involved in Lipsync, FASA, and eventually I applied to be an AMP mentor.
Did you have a good relationship with your mentor?
I did. He was a lot of fun! He's name is Rob, Robert Kwon. We didn't meet all the time but he was always there when I wanted to talk to him. A lot of our interactions were casual and social. He was really great and I appreciated him because he connected me to a lot of people he knew, so it was a lot easier to create a network.
How did you start coming to the Center?
I think I became the person that came here pretty quickly. I liked to go to the center to study once in a while but when once I really understood the deeper purpose AsACC was when I realized how important the space was to me. It's funny because I attach so much meaning to a series of rooms, like when you put these rooms together and call it a magical place. Once I knew this place was going to help me grow not only as a student but also a person who identifies as Filipina and Asian American, I quickly grew an attachment for it. I want to represent it well wherever I went.
When did you feel that you knew the deeper meaning of the Cultural Center?
The first thing that comes to mind is Angela's class because I always knew that I identified as Filipina because the world doesn't let you forget. The world doesn't let you forget who you are because we live in a racist world. Coming to the center I could be in a space free from the bullshit. I could be in a series of rooms that I attach so much meaning to without feeling like I'm the only one that looks like me. When I learned the history of this place and why we were birthed is when I really started to understand. I think I always had an understanding of race and why it was important to me, but I never really had the time or opportunity to really delve into what it means to be Filipina American living in CT, and this country,  and let alone in the world. It was definitely the class for sure, because it was just a bunch of us trying to figure out who we are and sharing those identity papers. I knew this place had a deeper meaning than a place to just hangout.
Having a place like this for me and students like me is sacred in a way. It is also a place to educate those who don't understand what our experience is like.
How do you think the Cultural Center has changed since you graduated?
The programs in existence have evolved. When I look at KUBE and it involves PRLACC; it was never like that when I was here. Or the way AMP has evolved, and how many freshmen and transfers are API. Those numbers blow my mind because it was nothing like that when I was a Coordinator. Or even looking at the size of some student orgs and seeing how many students are involved. I feel like our population is growing and our reach is also growing. We have so much potential to influence and create change on this campus. I'm always hoping the students who funnel in and out of here become aware of that because we are the largest student of color on this campus. I feel like there is so much power in numbers.
What were you involved with on campus?
I did a lot of things with Community Outreach. I went on a lot of alternative breaks, weekends, service trips which I really enjoyed. It provided me the opportunity to examine my own privileged lifestyle and to see what it was like for other people and their narratives. But you know service trips are so fleeting, so I always remind myself that I'm lucky to go into this and come out.
In the center I was the Coordinator of AMP for 2 years and I was a mentor for one year. I was also FASA's president for 2 years and vice president for 1 year.
How did you juggle that with school?
I knew why I loved it so much and why education was a path for me because I devoted so much time and energy to these organizations that I was a part of. It was never tiring for me except when I had to study because then I had to sleep late.
What was your favorite moment of college?
This one probably will never die but I was homecoming queen when I was a senior. Even years later (I won 5 years ago), there are still moments where people are like: weren't you the homecoming queen? It's still going…haha, maybe it will keep going. I bring that bring up because it was such a great moment not only for me, because I'm very anti-pageant, but it was great moment for the Center. That night when I won, I was confused like I did it? I won? But at the same time I felt immense pride for who we are as a community and it just felt good to bring that crown home where it rightfully belongs. I went in knowing that I was not only representing myself, but also people who believed in me.
And your worst moment of college?
In my Junior year my family was going through a lot, and I couldn't always be there.  Then my senior year, I was diagnosed with cervical cancer when I was preparing to graduate. I haven't been really able to talk about it until now. Now I think this internalized trauma is leaving my body. When I was a senior, I had gone for tests and things so I was really excited to graduate. Around graduation time was when I got the news that my tests weren't right. It wasn't super advanced where I had to undergo surgery but I thanked god every day. I mean I thought I was invincible because I was 20 years old. It was a reality check because I don't' look at life the same way after that. I really don't take things for granted and I tell the people I love that I love them all the time.
What advice would you give to current UConn students?
I think it's important to remember how we are connected. The things that I do in this world will impact the people around me. I hope the students here will appreciate what we have here and share the goodness of the center.
---