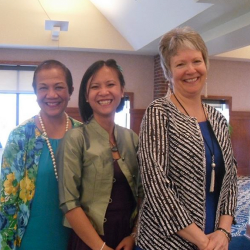 Class of 2007: History Major and Asian American Studies Minor
Class of 2013: Master's Degree in Social Work
Interviewer: Xi Lin
AsACC Student Staff Member
Class of 2015: Speech Language and Hearing Science Major
I had the pleasure to meet and enjoy a lovely afternoon at the UConn Dairy Bar with Sou. We had a conversation about her life before, while and after leaving UConn.
Sou was a History major and Asian American Studies minor while studying as an undergraduate at UConn. Since she was originally from the Manchester area, she did not live on campus and instead she commuted daily. Even though she did not get to experience what living on campus is like, but she did not feel like she missed out anything at all. Being a commuter student is one of the biggest reason how the Asian American Cultural Center(AsACC) became a big part of her undergraduate studies at UConn. She would visit the Center during her spare time for relaxing and eating. She did not start coming to AsACC through the Mentoring Program (AMP) like how most people started coming to the Center, instead a friend of hers from high school introduced this place to her. One of her friend asked her one day "Hey Sou, you wanna come for some free food?" the answer was yes of course. After attending the event she never left the Center and stuck with the Center for the rest of her college experience at UConn. She became a staff member at the center and that place became her second home.
Sou was not one of the students who knew right the way of what she wanted to do with her life, she was very confused and lost for her freshmen and sophomore year. One day she came crying to Angela(the Director of AsACC) and said that she doesn't know what to do with her life but all she knows is that she wants to help others. After telling Angela, Angela helped her out by connecting her with one of her friends and got her a Case Management Position. That is where Sou spent 3 years of her life helping people after she graduated from UConn. While she was working as a case manager, she realized how knowledge deficit she was; therefore, she decided to come back to school.  She choose UConn to pursue her master's degree in Social Work because she had loved UConn so much as an undergraduate student.
Sou was able to find what she likes and work with what she likes. She enjoys her job right now as an Advisor and she really wishes that everyone can and will find what makes them happy and practical at the same time. This is what she told me that inspired her the most: "You have the rest of your life to work so at least find a job that you love."
---